John W. Loftus – Reflections on His Deconversion Testimony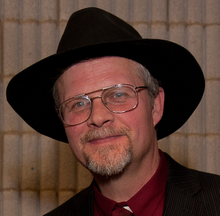 John W. Loftus, author of Why I Became an Atheist and proprietor of the blog Debunking Christianity one of the books I am blogging through on this site, did a great interview (iTunes link) in April 2008 on Christian radio show Unbelievable, and I wanted to remark on it.
The actual interviews starts at around 13:30 and 16:00 in the recordings (April 5, 2008, April 8 resp.)
Was John a True Christian?
I hate to even entertain such a question, since every ex-Christian has to deal with this accusation. To say the least, it is readily apparent that John was a genuine convert, well read in classical Christian theologians and apologists, and was a real gospel minister. He studied under many influential evangelicals, including apologist and philosopher William Lane Craig.
John's Infidelity as a Precipitating Factor
It is too easy to condemn John for his "Potipher's wife" experience, but adultery is an unfortunate fact of human experience, and Pastors are not immune. John doesn't make excuses, but certainly, it is understandable that such a mistake certainly affects your own view of yourself, and whether or not you are still worthy of being a pastor. That pretty much ruins your job prospects.
Intellectual Doubt – Evolution and Creation
John had a friend who was an evolutionist, who sowed intellectual doubt in his mind regarding not only creationism, but the Bible itself. John says this seed grew to be one of the biggest reasons for his eventual deconversion.
Chewed up and spit out by the Church
John stepped down from ministry, and left his original church in order to let them heal in peace. But at the new church, the pastor accused him of trying to take over the church. John seemed to find no compassion anywhere after his fall.
The Role of Dramatic and Emotional Upheavals in Conversion
What I like about John is he readily admits that his experiences and emotional states influenced his decision. He goes on to quickly add that these factors are overshadowed by his subsequent intellectual evaluations, but this point is important.
None of us make faith or anti-faith decisions based solely on cool intellectual evaluation, and we are self-deceived if we think we do. We all have emotional reasons for making the leap of faith or anti-faith, since, in my view, reason can not entirely answer those questions, they can only bring you to the shore of decision.
John nicely admits:
We aren't logic machines. We hold to mutually contradictory beliefs, all of us, and we don't know that we do. (April 5, 2008 1:11:08)
Is John Anti-Christian Because He's Angry or Out of Principle?
John acknowledges some residual anger, but seems to be primarily motivated by a desire to save others from wasting their lives in religion like he did. He did not set out to be an atheist evangelist, but he kept getting challenged, often unkindly and aggressively,
The reason I'm a debunker to this day is because Christians wouldn't leave me alone. They hassled me…Christians attack me every day….I would have been done and over with the whole thing…but when you personally attack me like I'm stupid or had an emotional reaction…I want to destroy the faith of those who use the faith to destroy people like me." (April 5, 2008 40:40)
Part II of the interview strays from John's experience to his opinions about Christianity, so i don't need to blog on it. It's an interesting interview, though, you should at least check out Part I (April 5).