Pensees 01 – T. S. Eliot on Skepticism
This post is part of a series.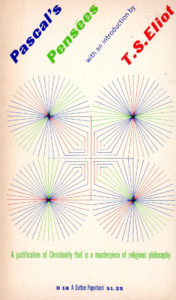 "For every man who thinks and lives by thought must have his own skepticism, that which stops at the question, that which ends in denial, or that which leads to faith and which is somehow integrated into the faith which transcends it." ~ T.S. Eliot from the Introduction to Pacal's Pensees. Interesting, his description of three outcomes. You could look at this as a process towards faith, or as three separate outcomes. For example:
OR
Question (agnostic)
Question > Doubt (atheist)
Question > Faith (believer)
The worst outcome, of course, might be to stop at the question and stay agnostic. Then again, maybe the questions are unanswerable!